Update from 2017 Annual General Meeting
The league must become self funding and become a partner with Veolia who have taken over the King Georges Field facilities for the next 24 years. Looking at the accounts we require a minimum of £10,000 each season to survive.
Last seasons fundraising
Last seasons was dominated by Deborah Buckingham (Pictured here with Vice Presidents Ron Hobbs and Brian Thornton) who raised over £5000.00 through raffles,
 auctions and a party in honour of her late Son, William, who played at MLL for seven years.This season Deborah Buckingham will be heading up the fundraising with three separate raffles, so please buy a ticket for only £2.00. There will be some wonderful prizes this year.
Special mention also needs to go to MLL Treasure and referees secretary , Dave Bonner, who cycled form Lands End to John O Groats and raised almost £1000.00.
We also raise money throughout the year at various match day and social events such as our Poker and Bingo Nights, Christmas Tombola/s, and End of Season Fun days.
Over £300.00 was also collected in our charity buckets located in the café and several local shops including Café Royale, North Cheam Social Club & The Central Ward Club.
Please check with your own company as many companies are allowed to make donations/bursary payments on your behalf. Some companies offer up to £1000.00
You can also donate money via the Just Giving and the Charity Aids Foundation (CAF). Please speak with our Treasurer, Dave Bonner, for more information
We collect £100s each year by you donating your players old boots that we sell on for £2.00 but there are many other things that the league uses that you can donate. Such as mallets, tool boxes, ropes, kitchen equipment, gaffer tape etc.
This season fundraising
This season Deborah will be heading up the fundraising with three separate raffles, so please buy a ticket for only £2.00. There will be some wonderful prizes this year.
Sponsorship Opportunities
[easy-pricing-table id="255″]
Current Sponsor
If you are one of our current sponsors and would like us to advertise your business here, please get in contact.
Merton FC – Sponsor of  Merton FC in the Rangers Division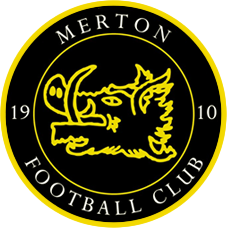 Merton Football Club was founded in 1910 and is the oldest amateur football club in the borough.

Currently we have seven adult men's teams which play on Saturday afternoons in the Southern Amateur League which is London's top amateur league. There is a veteran's team that plays a few games in a season. We also have a thriving and expanding youth section playing in the Surrey Youth League with six teams ranging from U9s to U16s. Our aim is to expand this section so that we have youth sides for all these age groups from U8 to U16. The youth section plays its games on Sunday mornings. All our home matches are played at our home ground, Joseph Hood Recreation Ground, Martin Way, Raynes Park, SW20 9BU. Here we have changing rooms and a vibrant bar which is open after Saturday football and most Sunday mornings for refreshments.